Welcome to Circle of Hands Chair Massage!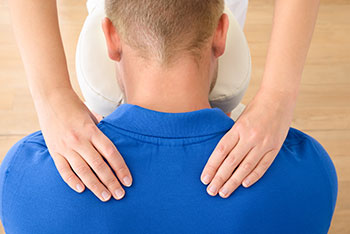 We are a nationwide, mobile, chair massage company specializing in corporate wellness and event massage. We provide chair massage at conventions, trade shows, corporate events, health fairs, and in the workplace. We have an extensive network of caring, dedicated, licensed, and insured massage therapists that is sure to make your event is a success and help to relax your hardworking employees, VIP's, or qualified prospects.
Are you looking for a way to show your appreciation or reward employees? Would you like treating your VIP's to something positive and different? Are you trying to find the perfect way to generate traffic and leads to get the highest return on investment at your next trade show? We are here to help and you can relax knowing we've got your back for whatever it is you may need. We also work with trade show managers, Corporate and meeting planners, event marketing professionals, wellness program managers, and human resources to make the process as pleasant and smooth as possible. Please take a few minutes to read up on what we offer and how we can help you.