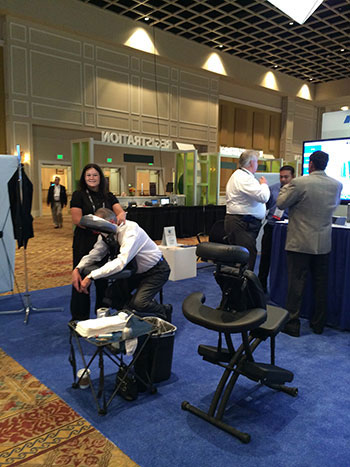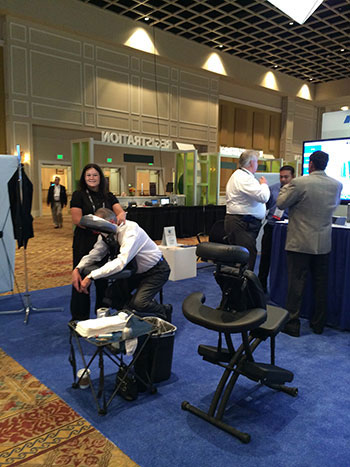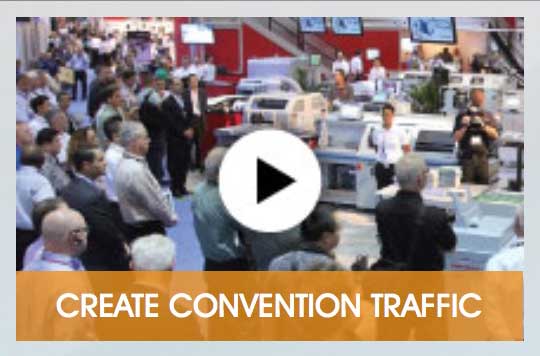 Circle of Hands promotes your brand or company using chair massage. Chair massage at trade shows and conventions are very beneficial to both the exhibitor and the attendee and our mission is to ensure your company a successful trade show.
Chair massage in an exhibit booth
Creates a large crowd and generates traffic; and allows customers to see your brand as in touch with their well-being.
Before the chair massage, the attendee willingly gives their information, generating guaranteed leads, and a successful trade show.
Attendees spend more time in your exhibit giving the staff the opportunity to speak with qualified prospects, increasing sales, and securing appointments.
Gives your attendees an unforgettable experience, which shows compassion for exhausting trade shows, and has your target prospects looking for free massage at your next trade show.
Chair massage is very affordable and is guaranteed to create the highest return on your investment. "Free Massage" guarantees a successful trade show and actual results.
Circle of Hands coordinates event set-up and break down, management, staffing, scheduling, compensation, and paperwork of the licensed massage therapists. This helps event planners, show managers, and companies to focus on the other details and planning of the event.
VIP Suites and Associations
Your company's VIPs are very important especially during trade shows and conventions! Why not have personal massage therapists to revive your worn out VIPs? Chair massage makes a great impression and is very appreciated by your VIPs. Associations can use free massage as a remarkable tool for attendees to upgrade or renew their memberships or just to give thanks
Massage Sponsorships
Massage sponsorships are extraordinary at conventions and trade shows for exposure toward the sponsor. Designate it as a Relaxation Station, Stress-Free Site, or Oasis Place. Rest Areas in large exhibit halls are great for attendees who need to take more breaks. Free Massage at the Registration Area at the beginning of any trade show during those long lines is great publicity!
Exhibitor Lounges
Your Company's hard-working exhibitors put in such long hours at these events! Free Massage is a wonderful way to help revitalize your staff each day and to show thanks for all their hard work. It shows you care about their well-being and gives them incentive to keep them to work even harder.
Please let Circle of Hands help to make your next event successful.
Search Engine Keywords: Trade Show Massage Orlando, Convention Booth Chair Massage, Exhibit Booth Chair Massage, Orange County convention Chair Massage, Trade Show Massage Orange County, Chair Massage in Orange County, Exhibit Booth Chair Massage Orlando, Convention Booth Chair Massage Orange County